Hello!
I'm Tomás, posting as the "T" in "LittleEcoT". I'm a scientist who is interested in living a more sustainable life and what this means for us as a society, locally and globally. 
I'm Ele, posting as "LittleEcoE". I'm a mechanical design engineer, my work is linked to sustainable transport. I'm also interested in sustainability and like to put some of my engineering skills to use DIY'ing solutions for our home. More recently I've been getting into growing food. 
As well as our 1st "eco-renovation" project to move a  ~1900 "2 up 2 down" in York from a D to an A (in CO2 terms) for 10% of its value and latest attempts to do up a 70s flat in an "eco" way,  we're interested in a load of indirectly related "eco" things. This includes community energy locally in York,  social investment (esp. in renewables), and just general ways to have a nice standard of life whilst reducing environmental footprints.
As most of the above doesn't really link to our blog posts on LittleEcoTerrace and LittleEcoFlat, any posts on this will be here instead… 
Blog posts from "LittleEcoT":
Now that the evenings are darkening it's a good time to look back at our summer holiday this year, a big trip to new places and excitingly our most ambitious train-based journey yet! Our train trip:
Got us to Serbia, Montenegro, and Croatia
Costed the same as flying
Let us visit a total of 7 countries
Was really fun!
Forget the jet
I want to share this journey because it took us from UK to exotic Mediterranean places without a plane involved. Often in conversations about avoiding air travel to reduce your carbon footprint dramatically (see graph), people seem to assume this condemns you to endless rainy caravan weekends. Whilst there's a lot of great places to visit in the UK you needn't limit to these shores; holidays can be flying-free and adventure-filled.
Most people know that plane journeys are more carbon-emitting than train journeys but sometimes they think it's a small difference, or a low-impact decision for their carbon budget overall. But as you can see from this comparison, the train journey was led to vastly less carbon (in this case ~75% less according to ecopassenger). If I run up my carbon footprint on WWF with holidays done by train, my footprint for this past year is 8.2 tonnes of CO2. If I run it with exactly the same lifestyle etc. except for 2 holidays done by flying (one EU, one non-EU), my footprint for this past year increases to 11.7 tonnes of CO2. So a couple of return flights each year would increase my footprint by over 42%, and would then make up about 30% of my yearly emissions. That's a lot of environmental impact coming down to the seemingly small decision of how to go on holiday.
The plan
This holiday was a 2nd exploration of the Balkans; we went to Slovenia, Croatia, and Bosnia & Herzegovinia in 2016 and were so impressed by the variety and beauty of the area that we decided to come back to explore Serbia, Montenegro, and spend a final week back in Croatia again windsurfing. On that 2016 trip we went out by train and back by plane; on this trip we felt emboldened by how well it had gone and wanted to do the entire trip without flying.
Our route out was to Belgrade, Serbia, and our route back was from Hvar, Croatia.With big routes it can be tricky to work out where to start; I began with the biggest chunks of distance and filled in the gaps later. The Eurostar and TGV to Munich was a known route already. Our trusty source, Man in Seat 61, gave different options for Munich to Belgrade; I chose the Hungarian Sleeper to Budapest because that used our sleeping time most efficiently. Then a train down from Budapest to Belgrade.
On the return I initially ran into the same problem as in 2016; there isn't an easy way to get onto a long distance train from the Split area. This is partly why we flew back then. But we hadn't realised back then that the ferry links are very strong. Instead of trying to go straight back over land, I booked an overnight ferry to Ancona in Italy. From there we got the train to Milan, then the Thello Sleeper from Milan to Paris, and a quick Eurostar hop back to London.
It costed the same as flying
Another concern that comes up is thinking that the train will be much more expensive than flying. Sadly in the UK trains can be quite pricey, if you're not booking in advance, and if you're comparing a peak time UK train to a budget destination flight then indeed that'll be unfavourable to train travel. However on the continent trains are much more reasonably priced, and flights to unusual places slightly off the beaten track (like Belgrade) or ultra-touristed (like Split) are not so cheap. Anyway, in this particular instance I ran up the prices vs. plane options and came up with this:
The train price and plane price were very similar, so it was an open choice either way, there was no cost barrier to us taking the train. We could have got cheaper trains if we'd booked a bit less last minute and the plane could have cost us ~£50 more, or ~£30 less, depending on how we handled travel to and from airports. This is often overlooked as a travel & time cost, and whilst it's possible to do airport transfers cheaply if you are willing to give up additional time to use local buses etc. one of the things we really liked about going by train was arriving right in the city centres and being able to get exploring straight away.
We got time to walk around exploring in 7 countries
If you fixate on the destination, you miss an opportunity. Taking the train means you will take 2 days or more solid travel to cross to eastern side of Europe, vs. a matter of hours on the plane. But with a train, you can break your journey; take the different legs at your own pace, explore different places along the way. We decided to stretch our return journey over 4 days. We got to spend an afternoon in Split, a day in Ancona, a day in Milan - we've never been to Italy before - and a day in Paris (which, admittedly without planning, happened to be our wedding anniversary!). On the way out, we met a friend for dinner in Munich, and we spent a couple of hours walking in Budapest. Rather than 3 headline countries in our holiday, we got to enjoy time a dazzling array of places, all so different. When I got back from this holiday it was unusually difficult to tell friends where I'd been!
It felt like a proper adventure!
This trip was the first time we'd ever taken sleeper trains, and they turned out to both be comfortable and quite exciting - waking up in a new place was really fun. In particular we got from Serbia to Montenegro via another sleeper train and woke up as we were coming down from the mountains to incredible views. This is reportedly one of the most beautiful train routes in the world! Not bad for £30!
There are some quirks
Each country's train system is a little bit different, plus we were travelling through some areas which use the Cyrillic alphabet which meant everything looked a bit disorienting to us. Mostly the little quirks are endearing, sometimes they are humorous; for example Serbia hasn't set up a way for people outside the country to buy train tickets. You cannot buy them via any official route yourself, you have to contact a Serbian man named Mr Popovic who buys them for you! (Which, counter to our skepticism, worked surprisingly well!)
Each trip was simple, but taken together they were a bit of admin
Making it all line up required a bit of thought and some spreadsheet magic. I used a visual itinerary to make sure I had it all correct before I booked everything:

I'd definitely recommend getting it all planned out and then just digesting it for a bit before booking to make sure you haven't missed anything. Also to get the best prices means booking with different sites so that aspect is more complex than an equivalent flight.
A bonus of having time to explore each location was it built in redundancy to our schedule in case anything was late, but it wasn't required; in our experience trains on the continent are exceptionally reliable. The only one which caught us out was Budapest to Belgrade, which was running to timetable but was exceptionally slow-moving, we hadn't realised and would probably take a coach for that leg if we were doing it again as it would be faster.
Will we do it again?
Absolutely! We've got more big ideas for future train trips - if you book well in advance then cheap tickets to Paris can connect to sleepers out to Italy and beyond. We will definitely be using the trains again but we'll be off to new destinations and new adventures next time!
Links
---
Most the places we've rented haven't had enough useful storage and newer builds seem to getting even worse. Sadly, for hoarders like me, it seems gone are the days of a stocked larder and capacious cupboards. Getting furniture built in is costly, normally because it requires a skilled carpenter or an expensive tailor-made service. We'd very much like a workshop and try to make more ourselves, but with a one bed flat in London it is hard to imagine a way of making that happen...
We have a niche in our flat that, although seeming a great storage space, wasn't very efficient and really just ended up being a dumping zone. We asked for a few quotes for built-in shelf storage and they were well over a grand (or more...), with quality/approach (e.g. boxes rather than open shelving) scarified to get them even vaguely near our budget. Not to be dissuaded, we decided to build our own at better quality and less than 1/2 the quotes, and try out some new techniques at the same time. The concept was simple: we wanted to have space for a few Bromptons and scaled everything to standard IKEA sizes so we could just fit it off-the-shelf affordable storage from IKEA.
The end result
Starting at the end, below (right) is the finished shelves complete with IKEA boxes and two Bromptons in their new home. The below (left) shot from before  unfortunately ended up being fairly common for the niche, so there is a real difference now with the new storage shelving.
The build is simple. Its just plywood birch wood sheet cut to size and pinned to battens on the wall. We jumped on the opportunity to use a cool technique of laser cutting, as this gave us the ability to have any shape. We used this to give an aesthetically pleasing large radius curve on the front left of the shelving. We also decided to leave the soot of the laser cut edges unfinished as we like the contrast with the white IKEA boxes.  Initially, we tried to get a sawmill to just cut to our measurements and that would have been cheaper, but in London we struggled to get someone to take our order (even if websites said they would...). We found the laser cutting service allowed us to neatly cut out slots to clear the wiring channel and other obstacles. The metal legs at the front on the left are from IKEA and so are the white paper boxes.
Whilst looking for photos of the shelving I even found a few (below) of the niche earlier on in our renovation.
The build
The material we went for was (PEFC certified) 12mm birch plywood chosen for strength and finish. We took lots of measurements (see our tips below), then used some Computer-Aided Design (CAD) software to pull together a design to fit around the space, sizes of IKEAS boxes/Bromptons, and obstacles (wire routing & fuse cabinet). The CAD software we used was Solidworks which costs and we had access to, however on projects since we've used software that is available for free (Fusion 360). Below are a few images of the final design.
Tips:

1. Measure really carefully and at multiple heights & depths in case the walls aren't straight.

2. Simplify your install by slightly undersizing all the shelves - ours had a gap 1/4 the batten width - which allows the shelf to be lined up visually then screwed into battens. This is quicker than having to plane shelves for a perfect fit. Also wood expands and contracts so small expansion gaps are sensible.

3. When deciding the height between shelves remember to allow for the thickness of the shelf above and battens above.

4. Shelves battened out on 3 sides are strong, shelves battened out only on the back like the ones on the left of our alcove have a weak floating corner. We solved this by screwing little mending plates at the join on the underside to discreetly tie the weak corner to the strong shelves.

5. When marking out for battens, pick one area of one wall to be your primary place to measure height, and use the spirit level to continue the marking out round the corners. This will keep your shelves level even if the floor is not.
Once the plywood arrived, we started battening out the support for the shelves. For this we just used cheap Wickes' Whitewood PSE Timber - 18 x 28mm x 1.8m.
This part of the job took a long time as all the screws needed rawl plugs into the masonry. We also finally got around to buying a wire/metal detector, which we should really have got sooner in our DIY exploits...
The left hand wall was definitely the most challenging bit. The fuse box and old metal cupboard could not be moved or altered. The lack of a wall at the front, meant the shelves needed legs for support. After looking online, we saw that there were lots of options but that IKEA's kitchen leg look nice and was very well-priced (£16, IKEA UTBY).
To finish, the extra shelves were put into the lefthand boxed out section. These are resting on internal battens on the plywood upright box section and use "cheating corners" (Wilkinsons' Fixit Blocks) to hold in place. Mending strips (two per shelf) were added to join the back and lefthand shelf sections.
We are very pleased to have rearranged this space so that it supports us using cycling as our main transport with somewhere to store our bikes conveniently, and so that we can tuck away all the bulk low-plastic household goods we get from Suma (as we've blogged about before).
Next projects
We're very fond of our new built-in shelving, and decided to do bookshelves in our lounge that would gain us floor spaces and be affordable too. For this we decided to take a different "IKEA-hack" approach & i'll pull together a blog on it soon.
Links / the gory details
In case any of this is of interest, the table below gives links for what everything cost and where we bought. In total it was ~£430. None of these links are affiliated.
---
Plastics reduction has really caught public attention recently, with the "Blue Planet" effect and with some people in the UK giving up single-use plastic for Lent. LittleEcoFlat doesn't observe Lent particularly, but this wave of interest does tie in with one of our aims for around a year now to reduce our plastic waste. So we thought we'd share some changes we've made - if any of you have been ditching the disposables and want to keep your momentum going, maybe some of these ideas will be useful for you!
We were surprised to see the theme of toiletries and cosmetics come up repeatedly, and realised we were wasteful here because we were stuck thinking this area "doesn't count". Finding that my actions and my ideals clashed made me feel pretty awful, but I think overall it's best not to get disheartened; looking for these blind spots in your thinking is an ongoing part of being human, and an opportunity to grow.
(Apologies to anyone who received a notification about the draft version of this article - a mess-up on my part and I hope you enjoy the finished article below)
Reduce > Reuse > Recycle
The biggest gains we made were by "levelling up" from recycling to making sure the plastic doesn't enter the house in the first place. But recycling is a good, simple place to start. If you want an easy guide you can find videos on how to recycle different items from recyclenow linked here, and a guide to what recycling bins you get and what you can put in them here, just enter your postcode here.
At LittleEcoFlat, we have drop-off points but no specific collections from the household, so we take everything off to the larger neighbourhood bins. We have set up a stack of IKEA Sorteras which sort all our cardboard, plastic, aluminium, glass, and tetrapak. Tetrapack, WEEE waste, other metal, and batteries all go to special collection points in the local area. Wood and any useful cardboard goes to our allotment to be reused.
Not all plastics are equal
Some plastics are easier to recycle, like PET, polyethylene, and polypropylene (a nice summary linked here). Others are hard to recycle, like Polystyrene. Generally rigid plastic packaging is single-type and recycle-able. But foams and plastic films/wraps are rarely separated for recycling or incineration and end up in landfill. Mixed materials also pose a big issue; any paper or card which is plastic film coated (tetrapak, disposable coffee cups) is very difficult to recycle or compost, and needs to be kept separate and taken to a special drop-off point.
Cleaning Products
Before - Plastic contentedness rating 4/10

After - Plastic contentedness rating 8/10
Setting up a food group last year allowed LittleEcoFlat to join LittleEcoTerrace's habit of getting all the laundry liquid, fabric conditioner, washing up liquid and hand wash in bulk. Our 5 litre containers massively reduce the plastic coming in with these products, and we use a funnel and re-use a set of small containers to decant it out for easy use.
The dishwasher tablets are bought in bulk but still come individually wrapped in film pockets which is clearly an area to keep working on. We still buy toilet cleaner in individual bottles.
Food
Before - Plastic contentedness rating 5/10

After - Plastic contentedness rating 7/10
Not masses has changed here, buying food in bulk and storing it in glass jars means the kitchen is a fairly low plastic zone. For years we used emptied jam jars of various sizes, last year we decided it made sense to get a "proper set" from IKEA.
Early in the year we completed a gradual shift away from tetrapak to plastic juice bottles - easier to recycle. We still have tetrapak cartons for the soya milk. Our loved local Co-Op seems to be lagging behind other supermarkets in switching away from tetrapak juice but we hope they will soon.
We bought ourselves an infusing teapot to make it really easy to use loose leaf black tea instead of teabags køb cialis. You may be surprised to learn (I was!) that most paper teabags have plastic in the binding which doesn't decompose and will leave plastic fibres in the compost. We use allotment-grown sage and mint for herb teas last year and aim to up production this year.
Much of our single-use plastic film arrives in the flat as food packaging.
Growing some of our own veg on the allotmen
t and
salad on the windowsill
has helped a bit. An unexpected result was ending up in the Co-op, having just come from the allotment, trying to explain to the cashier why I had a leek with no barcode on it. We still have a fair bit of film in the landfill bin and we're scratching our heads what to do about it. Meat is a tough one to crack for this, but certainly for veg it'd be nice if paper bags were more prevalent in shops.
Both of us have got ourselves a travelling coffee cup over the past year to kill off our disposable coffee cup use. We take trains a lot and often treat ourselves to a coffee in the station, but these paper cups are again plastic coated making them a nightmare to recycle or compost.
We still don't do amazingly well with convenience food, such as packed sandwiches when we're on the move. To improve we can keep taking packed-up food and reusable cultery with us on our wanderings, as well as reducing how often we buy these things.
Toiletries & Cosmetics
Before - Plastic contentedness rating 3/10

After - Plastic contentedness rating 8/10
The biggest change for us was installing a shower dispenser for shampoo/bodywash and conditioner. We bought 4 x 5l containers from Suma in grapefruit and in rose scents, rather than 40 x small bottles. Most of my extra odds and ends (moisturisers, body scrubs, face masks etc) are from Lush and they sell things in paper or take the bottles back. With 5 empties = 1 new face mask this is definitely my favourite way to recycle.
We skipped the whole microbeads thing. It genuinely confused me why companies thought we would want plastic rubbed all over us, and I feel it was irresponsibly marketed. If you are after a good replacement exfoliant try making a sugar scrub or buying something where the exfoliating media are biodegradable like rice granules.
For toothbrushes, the plastic handled and bristled ones are difficult to dispose of responsibly and are one type of plastic waste found in the great ocean garbage patches. Initially we landed on an alternative of bamboo handled ones but unfortunately matters are rarely simple and we found out from this article that some of the ones which we thought were plastic free actually have plastic rather than bamboo viscose bristles.  We're taking caution now and aiming for options with genuine bamboo viscose bristles, or pig bristles, the latter of which obviously won't work for vegans or vegetarians.
For deodorant we tried solid powder and solid cream types but to be honest they didn't deliver. So we're still using plastic roll-on containers which is not amazing and we will keep looking for options.
When it comes to makeup, I have a personal dislike of most of it, so this doesn't generate much plastic. I use a couple of lipsticks, eyeliner kohl, and solid perfume. I have a lot of nail varnishes because it helped me get my nails long and nice, but overall these and the remover are stuffed with nasties so more recently I've stopped using them and use a buffer bar which just keeps them neat and short. I work with a lot of grease and dirt so my nails get stained if I grow them long, if anyone has a handy eco tip for avoiding that do let us know!
Point where the article diverges
So, that's our general household plastic reduction efforts, I hope you have found something of interest. The last section of this article is about a large source of waste for many women, which is monthly products like tampons and sanitary towels. If that's not something you find relevant or interesting, this is your stop, and thank you for checking out the article!
Monthly products
Before - Plastic contentedness rating 1/10

After - Plastic contentedness rating 10/10!!!
I wasn't initially sure about sharing this bit but it's important; well performing monthly products are critical for a huge chunk of humanity, but the main options - conventional tampons or conventional sanitary towels - create large amounts of plastic waste. The Women's Environmental Network says in their "Environmenstrual" campaign that pads are around 90% plastic. It's not a practical or sustainable situation, and women need functionally excellent options which don't commit them to such heavy waste production.
This is one area that I was highly resistant to looking at for many years, I lacked confidence that eco alternatives would deliver and I didn't want to take risks. This is a personal area so I'm glad I took time and came around to considering it in my own way, but I needn't have worried. The option I use now is much more comfortable and to my real shock, much more pleasant and sanitary-feeling. Specifically I get less irritable skin during my period, something I'd incorrectly chalked up to my contraception option not my menstrual option. I now feel that the options in shops impose this idea that everything needs to be clean perfect white and seem desperate to work against, not with, something that's a reality every four weeks for a huge chunk of the population and isn't all that bad. I'm not sure how this has happened but it's rather odd. I'm sure women will have been involved in development of the plastic-y options too, but it feels like a new wave of products are more loudly and boldly being designed by women for women.
The main alternatives are menstrual cups like
MoonCup
, and washable menstrual pads or underwear like
CheekyWipes
. I was confused by
Thinx
, because their adverts imply it replaces tampons/sanitary towels completely, but their product pages use hedging language over whether it's truly an alternative for heavy flow days which I found unhelpful. That said, I really recommend that this area is up to you and you should research and decide what's best for your unique case. The manufacturer websites are friendly, not scary or gross, so it's safe to do a quick search and find out what's out there. Remember that considering how much you spend on the disposable stuff over your life, it makes financial sense to buy a couple of options and decide which you like. If that helps you find the right one, you'll still be saving money and plastic overall. That's what I did and waited until I happened upon a correctly timed weekend about the house so there was no risk in trying something new.Reuse means whichever option you take you'll be washing what you use. This is not the
Carrie
-like scenario you may be envisioning. I was sceptical, and yes it's not the most glam, but it's fine and it's comparable to the faff of wrapping and disposing things. To be honest we all know blood is a thing and we deal with it each month, this is not shocking or weird to anyone who experiences it.
I'm really glad that I made a switch in the end, I genuinely feel I have something not just equivalent functionality but actually better for me, and I hope that in the future we're going to get better as a society at offering environmental options to our teenage girls so that they don't get locked in, like I did, to generating plastic waste for many years and lacking confidence to try alternatives. If you haven't considered a switch yet, please don't feel pressured, I needed time myself. My message is you deserve to have an option that works very well for you, and also slots in with your environmental ideals.
Links
Plastics in our oceans:
Reducing plastic
 Recycling
Plastic saving gadgets
Cosmetics
Monthly products
---
It feels like today, many of us are becoming quite distant from the origins of the food we eat. We're not shopping in the butcher's, the baker's and the grocer's, and this means in general our food is travelling further to get to us, and we know less about the wellbeing of the people who make it and how they make it. It'd be easy to bemoan the march of the supermarkets and a valid response could be to only shop local for some. However there are other factors here: mass food has become more varied, less expensive, and its quality is policed with exceptional rigour (...even if taste is occasionally the innocent bystander hit by this focus). Thankfully there are lots of gems of local producers all around the UK, but I've found since moving to London trying to shop local now carries a hefty price tag. It seems to have become a pretension. Shopping eco and organic similarly can get pricey very suddenly, with alternative supermarkets like As Nature Intended and Wholefoods stocking hard-to-find eco goods in London but also charging well above the odds for them also.
So, how do you get your diet and groceries to be low food miles, fairtrade, organic, low meat, eco-friendly, varied and exciting, and yet not cost you an utter fortune?
What is Suma?
Time for a clever co-operative to step in. Suma have been running since the 70s and they are one of the most successful workers co-operatives in the UK. Their business model is very interesting; their main purpose is to sell organic, fairtrade, and environmentally friendly groceries wholesale to shops. However they also actively encourage sales to food-buying groups; individuals banding together to get to the same Minimum Order Value (MOV) as a shop would have, and then sending through one group order. Suma have strong principles about what they will and won't stock; they are strict about products being environmentally sensible, paying a fair price to those who grew/made the food (whether that is Fairtrade label or other forms of worker protections), they don't stock meat, and most (but not all) of their food is organic.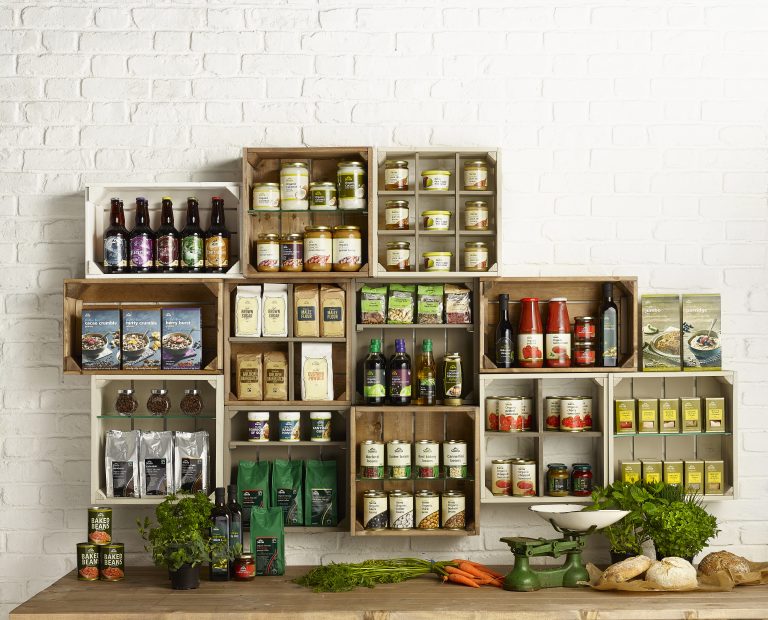 Over the years Suma have grown and are now an experienced brand in their own right; many of their staples are Suma branded and sourced. Suma practices what it preaches by paying all of its staff an identical basic wage of £15.60 per hour (~£32k p.a.) regardless of role, and all staff equally share profits and have equal stakes in deciding how the business develops. Staff are encouraged to turn their talents to whichever combination of roles they prefer; this radio program said tasks like picking and stacking are partially on a rota, but equally some workers are more accounts-based and others are more packing-based. I'm really fascinated by their model; it's unabashedly utopian and logically one would say ahh, economics will mean one day they won't be able to fill a skills gap and will have to pay one person more, then it will all fall apart. However they've been doing just fine for the past 40 years. My instinct says the answer to the puzzle is they're offering a model of diversity and equality that really is worth more than money to some very capable people out there. Well, anyway, if you just read that and want to join the utopia, they're over in Elland, West Yorkshire, and they're hiring as I write this.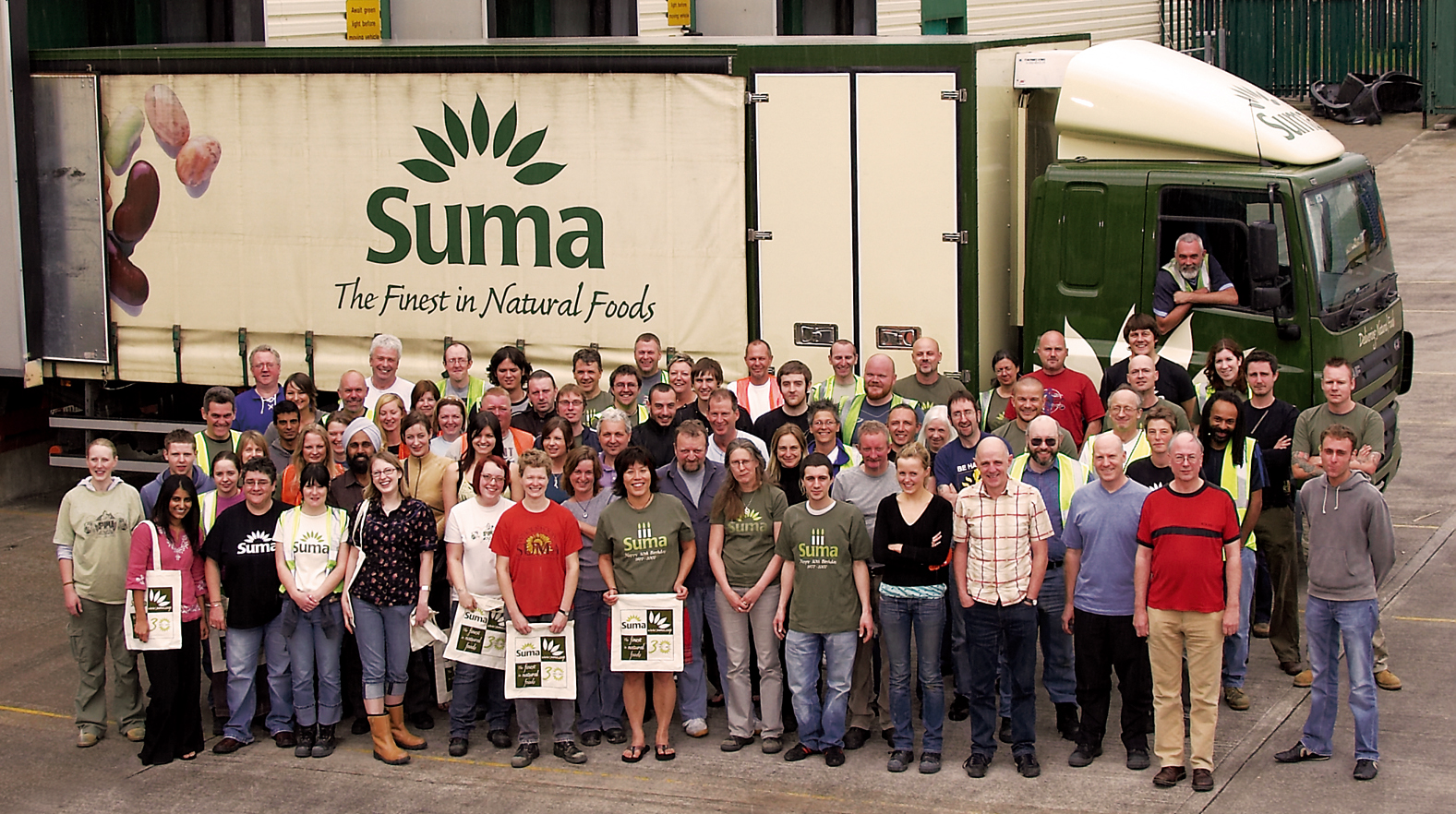 Back to the food; Suma stock a huge range of grains, staples, canned vegetables, nuts, fruits, drinks, oils, dairy goods, toiletries and cleaning products. If you have a special diet eg. low meat, dairy free, gluten free, vegan, they have a ton of specialist foods and meat replacement foods. Quality is very high and prices are comparable with budget supermarkets, i.e. it may not necessarily beat Aldi/Lidl/Asda/Morrisons but it's great quality and great ethics for that same price. It's excellent value.
There are a few other co-operatives doing something similar: Lembas in Sheffield and Rainbow Wholefoods in Norwich are notable examples and similarly have an ethos of equality and co-operative running. They'll also sell in bulk to food buying groups. I believe there are a few more but I don't know them by name, feel free to comment and flag some others up.
What is a Food Buying Group?
A food buying group is where a bunch of individuals get together and place group orders for food, so that they can access it cheaply. Some food buying groups can be purely cost motivated, but around the UK there's a really big trend of these groups also being about getting more environmental, more ethical products, particularly if you live somewhere where those items are not in the shops around you. The group normally has a focal point that makes it a natural little community; a certain cafe, or school, or allotment site. The group can be a co-op, with a constitution, members, bank account - or equally it can be a Whatsapp group and one person willing to have a pallet delivered to their house now and then.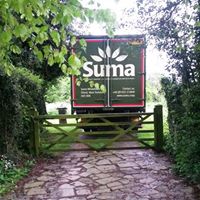 When I was little we used to get our Rainbow Wholefoods supplies (inc. soya milk and un-sulphured apricots) from the delightful Fruits Of The Earth in Upper Orwell Street, Ipswich. It was my favourite shop because its smell was just incredible, all of the cooking spices oozing together, and to a child it seemed stunningly exotic. I have a treasured memory of watching the Chinese New Year parade passing whilst we stood on the high doorstep of the shop. Unfortunately for us this rarity in Ipswich disappeared, leaving us without a particularly good source of wholefood products for a while. A few years later my parents joined the allotment's food group - this is a really popular type of food co-op - and used to order in all the bulk items that a big family gets through; pasta, laundry liquid, loo roll, tinned tomatoes.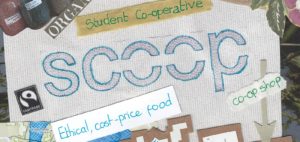 When we lived primarily in York, we were part of the University of York People and Planet Student food co-op (SCOOP, @YorkSCOOP). They have a sophisticated setup where they run a price-by-weight shop called SCOOP at cost out of the University. Most food groups don't have enough admin people to do this, but the students provided a big enough group that it made sense to "pony up" for the bulk and let people come and grab what they want. If you wanted something rare you might have to commit to taking a whole case of it before they'd order it in, but most stuff was very easy to get from there.
Now we're in London and surprisingly we've not naturally drifted into any food groups here. It seems to be a bizarre desert for food groups. For a while that puzzled me, but I've noticed a few factors in the dearth of food groups here: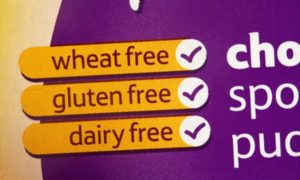 Specialist diets have become normal - It used to be difficult to get dairy free/gluten free/meat replacement/vegan fare in most UK shops, and seeking out somewhere that would sell these to you would be the thing that originally nudged you into the wholefoods universe. Now Quorn is everywhere, and with 1/3rd of British customers now buying Free From products, even my convenience shop stocks soya milk and gluten free bread. It's far easier to get this stuff.
Combo of availability and money - London already has a lot of shops catering to eco food and cleaning products, they charge a lot but they are convenient and people here get constantly psychologically battered into thinking food costs a lot of money, so they don't seem to notice the markup.
Don't talk to other Londoners - our rep across the UK for ignoring each other in London is not entirely undeserved. Our community is simply too large to emotionally cope with, so I've noticed socialising becomes more focused; there's a club for literally any activity, but x club only does x activity specifically. Food groups seem to arise more naturally where the community is smaller so a successful club/society needs to accommodate a more disparate group of people attending and be a focal point for a broader range of activities. People then chat more about neighbouring interests and work out they'd like a food group.
What do you need to start a food group?
£0 - no startup costs
A group of people who can all communicate easily
Enough interest to generate orders of minimum value £250 (total, not each)
Someone who can drive a spreadsheet and knows super-basic accounting (i.e. if you do your own bills, you are totally qualified enough for this)
Someone who feels confident reminding people politely to pay (can be consolidated into the same human as above skillset)
A bank account to marshal the money up in
Somewhere that a huge Arctic lorry (think double-decker bus size) can drop a pallet off
Read through Suma's "Start your own Food Group" guide to find out more. I used their web resources for lots of advice and help and found they were excellent. They had a "Top 100" list, which helped me show the possibilities to people unsure about jumping in.
Our food co-op: Musette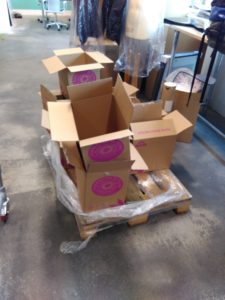 Musette is the food co-op I set up for the employees of Brompton Bicycle Ltd. I'm really proud of being able to set up a co-op of our own, and I'm thoroughly impressed with how enlightened an employer Brompton has been through the process. I'm also just blown away by how stunningly friendly Suma are as a company, and as individuals, which I'll say more about in a second.
I'll do another post sometime describing the nuts and bolts of how we run, and how orders come together, but for now I want to just chat a bit about how Musette came to be.
The food group grew out of necessity; LittleEcoFlat gets through lots of TVP, soya milk, Boullion powder, Ecover washing and cleaning things, tinned chickpeas, and we were getting this all from SCOOP. As we spent more and more time in London we were having to take more and more of these foods down on the train from York. It's a ridiculous situation that this was still so much cheaper than buying those things here. So we had a think about who would make a good group; we thought maybe the allotment, but we were concerned on two counts. First was we are newbies. Rocking up and then starting to organise people who've been doing this a lot longer than you is rarely wanted or needed. Second is the allotment group is quite loosely connected and its organisation appears mysterious from the outside. Our secretary clearly has an excellent handle on things, but we really lacked the confidence that we could get this gang pulling together, communicating well, and placing big enough orders.
Instead I started to think about my workplace. The factory is massive; pallets and lorries coming and going is the day-to-day reality. My immediate colleagues include several who love to cook and like good quality ingredients, and the wider company is big and could get a minimum order together even if it's only a small % buying one or two items each. My colleagues include people who eat low meat, no meat, organic, palm oil free, and who use environmentally friendly laundry liquid etc., making them a decent fit for Suma's catalogue. Brompton isn't a campaigning organisation and doesn't have an environmental agenda, but the staff is heavily made up of cyclists and that has a correlation with many of us feeling quite environmentally conscious.
My first step was to gently float the idea hypothetically to a couple of close friends at work. They seemed keen and thought others would be too. After building up my confidence a bit, I went to our MD and pitched for permission. My argument was that his employees get access to a seriously good deal on good quality food, and all it's going to cost him is a pallet spot for 1-2 days which isn't even going to be a hassle. He didn't know much about Suma or food buying groups but was immediately keen. He gave me permission and said this is the kind of employee community activity they want to have, he was really encouraging. I'm glad I spoke to Brompton's management really early; if you are considering doing something similar, I would recommend doing it this way. I felt it was important to show my respect for the company before steaming ahead, and it definitely set the right tone of enthusiasm. I also appreciated that the MD showed his support by making sure he joined in on the first order, and spreading the word about Suma.
The first order was a solo affair on the admin side; I phoned Suma and set up an account alone, and did the promoting, order collection, money admin. When I first spoke to Suma the size of the task felt really daunting. But I needn't have worried - I had the pleasure of Lynne (from the New Business Team) taking me through the process with warmth and charm. She signposted me to all the info I needed and it genuinely was really easy to get started. Something I hadn't anticipated was Suma were so excited by Brompton getting in touch. Lynne was really impressed that our staff were up for this sort of thing, and Suma staff have a great love for cycling. Regardless of that, everyone I've had contact with at Suma has made it clear that they're so happy to have us, and that they genuinely love new customers coming along and getting to include them in something everyone at Suma deeply believes in.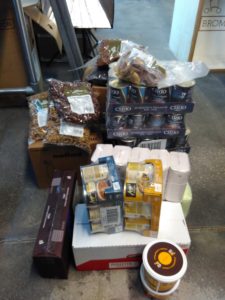 My first order was a bit gunky, I made mistakes, I didn't know which foodstuffs were VAT chargable (it's seriously weird). I didn't check if things were in stock, and on the first order you don't have a credit line yet which means you need to pay for everything and then process a refund for anything which isn't able to be sent for whatever reason. But Brompton staff were excited and positive, whilst Suma staff were quietly efficient and dealt with everything very smoothly. The order was a big success overall, people loved it and made it immediately clear that they wanted to do it again. Meanwhile, the lady who packed our pallet for us slipped in a handwritten note which we proudly put up on the noticeboard:
Big love to Brompton Bicycles! Best in the world! Jane, Suma xxx
Thank you Jane!
After that there was a long hiatus due to me getting married, which rather maxed out my admin capabilities. But when I got back, we set about creating Musette. It's a constituted co-op with four Brompton employees making up the management committee. I'm chair and realistically I still do most of the order side, but it's lovely having the others to seek advice from, to help publicise the group, and to help me split out the goods when they arrive. I wanted to set up a full-blown co-op, rather than an informal group, partly so that the admin wouldn't all fall on one person, but mostly so that I'm not handling loads of my colleagues' money all on my own. The orders can easily break £1k each, and whilst my colleagues clearly have trust in me and have been happy with my management of the money, having a co-op means it's more accountable and transparent if any confusion ever did arise. Best to keep a healthy boundary between work world and money world.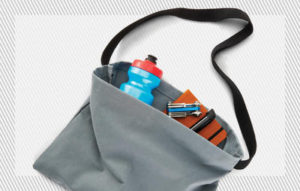 The name refers to a musette bag from the world of road cycling, which is a light cotton bag with a very long strap so it'll sit on the rider's back easily, filled with snacks that gets chucked to pro riders in the feed zone, or generally taken on rides to snack from (See also: nosebag, bonk-bag). It took us a long time to come up with it, we were initially trying for a bad pun or slightly naughty acronym, but being a co-op based on the intersection of bicycles and food, Musette is such an appropriate name.
Together with the committee it's going really well. The hardest thing about it is that it involves payments and so people forget, or don't really want to pay, and you have to keep firm about the boundaries there. We've set a simple rule of payment before order, and the order's on a hard deadline. If anyone misses payment, their stuff doesn't get ordered, but we're really gentle about it and encourage them to try again next order.
Overall this experience has been excellent. LittleEcoFlat has enough food tucked away in it to weather the apocalypse, and I've gotten to see the enthusiasm from both Brompton and Suma employees. It reinforced my feeling that I'm really lucky to work at a place where people are interested in having a community, and are interested in having integrity and principle in how they live. I had no idea how a community that isn't primarily eco-focused would take to Suma; but it turns out my colleagues are open-minded and interested in the world, and they bloomin' love cut-price pine nuts.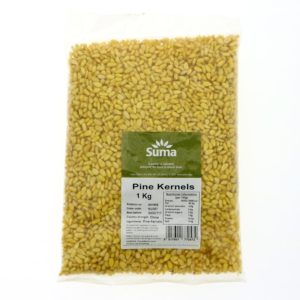 Links
---
Since our last allotment post we've obtained and reclaimed the second part our allotment plot. This adjoins to the north of the bit we already had. We've managed to grow a few things and eat them. Here is a little update on our efforts and some of what we've learnt so far...
The empire expands! - taking over the 1/4 plot next-door
So, we got the second part (1/4) of our allotment, making us up to a 1/2 plot, or 5 poles indipill.com. For reasons of demand, allotments are split typically into 1/4s and 1/2s these days with only veterans really having whole 10 pole or multiple 5 pole plots. Annoyingly if we'd known we'd expand I wouldn't have wasted 1/2 a day re-building the beds that slightly went over the half way mark. Regardless actually wrestling the site to a state where things could grow took several cumulative days of effort. From speaking to others, this is pretty much always the case...
Allotment friends!
As well as a really interesting and lively group of local people who have allotment plots, we got a few critter friends too! We have numerous slow worms, birds, frogs, pretty insects (inc. dragonflies), and even a cat. We are particularly fond of our frogs, who seem to be very happy with our pond (made from an up-cycled bath as discussed in our last post). I was less positive about the allotment cat (as they are responsible for a vast amount of bird deaths - see CSE's graph comparing to death's from buildings/wind turbines), but after noting how many mice it caught (who might eat our mange-tout!) I might be slowly coming around.
Cooking from the allotment
We are amazed about how much we've got off the allotment so far. We are well on track to beat the money we've spent on the allotment with worth of crops off. A lot of it has been fortuitous, we've cashed in on what was grown in the soil previously and that amazingly survived our rebuilding of plots and re-taming the space. The highlight of this was a surprise asparagus, that provided many happy additions to dishes over a month period.
We've grown a ridiculous amout of courgettes and marrows.  As you may have seen, we even posted the favourite three of the marrow recipes we cooked (blog post: "Don't feel Marrow-se about your courgettes!").
Pestos & salads...
We tend to prefer lightly cooked vegetables anyway, but particularly from the allotment we're finding the tastes and textures of them raw a real delight. Our first red cabbage went into a huge coleslaw, and we've already had an experiment with making a herb pesto using marjoram, oregano and garlic from the herb bed crushed up with bulk-bought pine nuts (from the lovely guys at Suma) and olive oil. Major plus point; you can make it dairy free, if you are lactose intolerant, as long as you put in some salt - we discovered the cheese is counterbalancing a lot of sweetness from the pine nuts. We're now working on a little basil factory on our windowsill at the flat where it's warmer in order to do version 2.
A spiraliser proved to be useful and we did a huge salad of courgette, onion, cabbage (all from allotment) with carrot, cashew, and sweet chilli sauce (not from allotment).
Finally, sorrel is a bizarre, intense and lovely lemon-tasting leaf which has really thrived and we've enjoyed flavour-bombing salads with.
The kindness/glut of others
In addition to our own growing, we've been kindly given a variety of things from other allotmenteer's gluts. This has included parsnips, beans, and raspberries; all have at become the foucus of a meal. We've enjoyed returning the favour ocasssionally, but the the largest glut we've had was courgettes/marrows (there are still >10 marrows in our kitchen) and nearly everyone had enough this year (but we did manage to give a few to friends and family). Foraging bushes near the allotment has yeilded many kilos of blackberries, which hopefully will remain a nice addition to breakfasts and smoothies for many months.
Lessons learned
My wife and I have a rather low opinion of our gardening knowledge and general green fingered-ness, but as we keep up our ~2hrs each per week we are pleasantly surprised at how much we seem to be able to grow. Slowly we seem to be making progress and working out how to get more out of our space. A few things we've realised:
Things grow. Particularly potatoes. Often the things you didn't intend to grow do the best and you just have to work with that.
Research is good. Getting allotment was a surprise and we decided to just take the chance and run with it, rather than our normal approach of hitting the books/internet beforehand.
The more setup your site is the easier it is to look after and therefore the less time per week you need to spend on it.
So we went with the flow with (1) and are working on some plans for (3). For (2): We've slowly doing more research, but a lot of the big lessons learned have been experiential and on our plot.
Links
---