Now for Suma-thing different
It feels like today, many of us are becoming quite distant from the origins of the food we eat. We're not shopping in the butcher's, the baker's and the grocer's, and this means in general our food is travelling further to get to us, and we know less about the wellbeing of the people who make it and how they make it. It'd be easy to bemoan the march of the supermarkets and a valid response could be to only shop local for some. However there are other factors here: mass food has become more varied, less expensive, and its quality is policed with exceptional rigour (…even if taste is occasionally the innocent bystander hit by this focus). Thankfully there are lots of gems of local producers all around the UK, but I've found since moving to London trying to shop local now carries a hefty price tag. It seems to have become a pretension. Shopping eco and organic similarly can get pricey very suddenly, with alternative supermarkets like As Nature Intended and Wholefoods stocking hard-to-find eco goods in London but also charging well above the odds for them also.
So, how do you get your diet and groceries to be low food miles, fairtrade, organic, low meat, eco-friendly, varied and exciting, and yet not cost you an utter fortune?
What is Suma?
Time for a clever co-operative to step in. Suma have been running since the 70s and they are one of the most successful workers co-operatives in the UK. Their business model is very interesting; their main purpose is to sell organic, fairtrade, and environmentally friendly groceries wholesale to shops. However they also actively encourage sales to food-buying groups; individuals banding together to get to the same Minimum Order Value (MOV) as a shop would have, and then sending through one group order. Suma have strong principles about what they will and won't stock; they are strict about products being environmentally sensible, paying a fair price to those who grew/made the food (whether that is Fairtrade label or other forms of worker protections), they don't stock meat, and most (but not all) of their food is organic.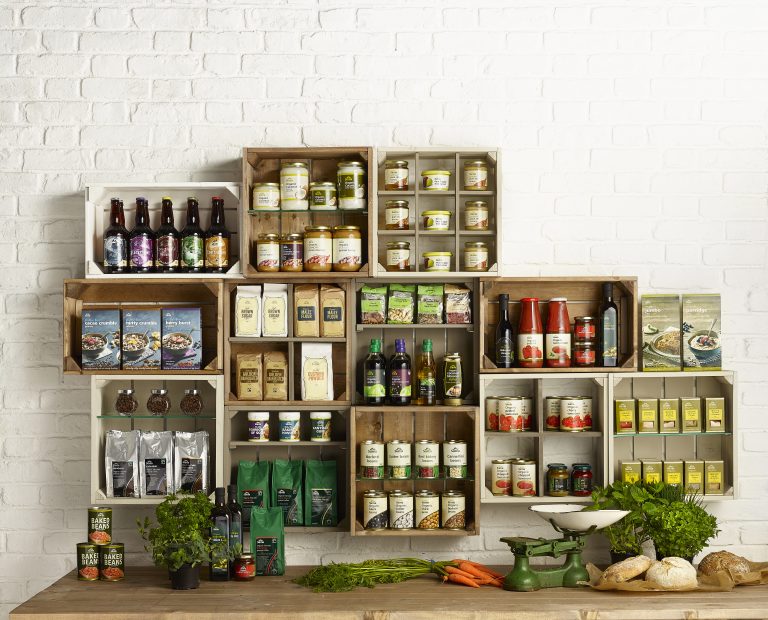 Over the years Suma have grown and are now an experienced brand in their own right; many of their staples are Suma branded and sourced. Suma practices what it preaches by paying all of its staff an identical basic wage of £15.60 per hour (~£32k p.a.) regardless of role, and all staff equally share profits and have equal stakes in deciding how the business develops. Staff are encouraged to turn their talents to whichever combination of roles they prefer; this radio program said tasks like picking and stacking are partially on a rota, but equally some workers are more accounts-based and others are more packing-based. I'm really fascinated by their model; it's unabashedly utopian and logically one would say ahh, economics will mean one day they won't be able to fill a skills gap and will have to pay one person more, then it will all fall apart. However they've been doing just fine for the past 40 years. My instinct says the answer to the puzzle is they're offering a model of diversity and equality that really is worth more than money to some very capable people out there. Well, anyway, if you just read that and want to join the utopia, they're over in Elland, West Yorkshire, and they're hiring as I write this.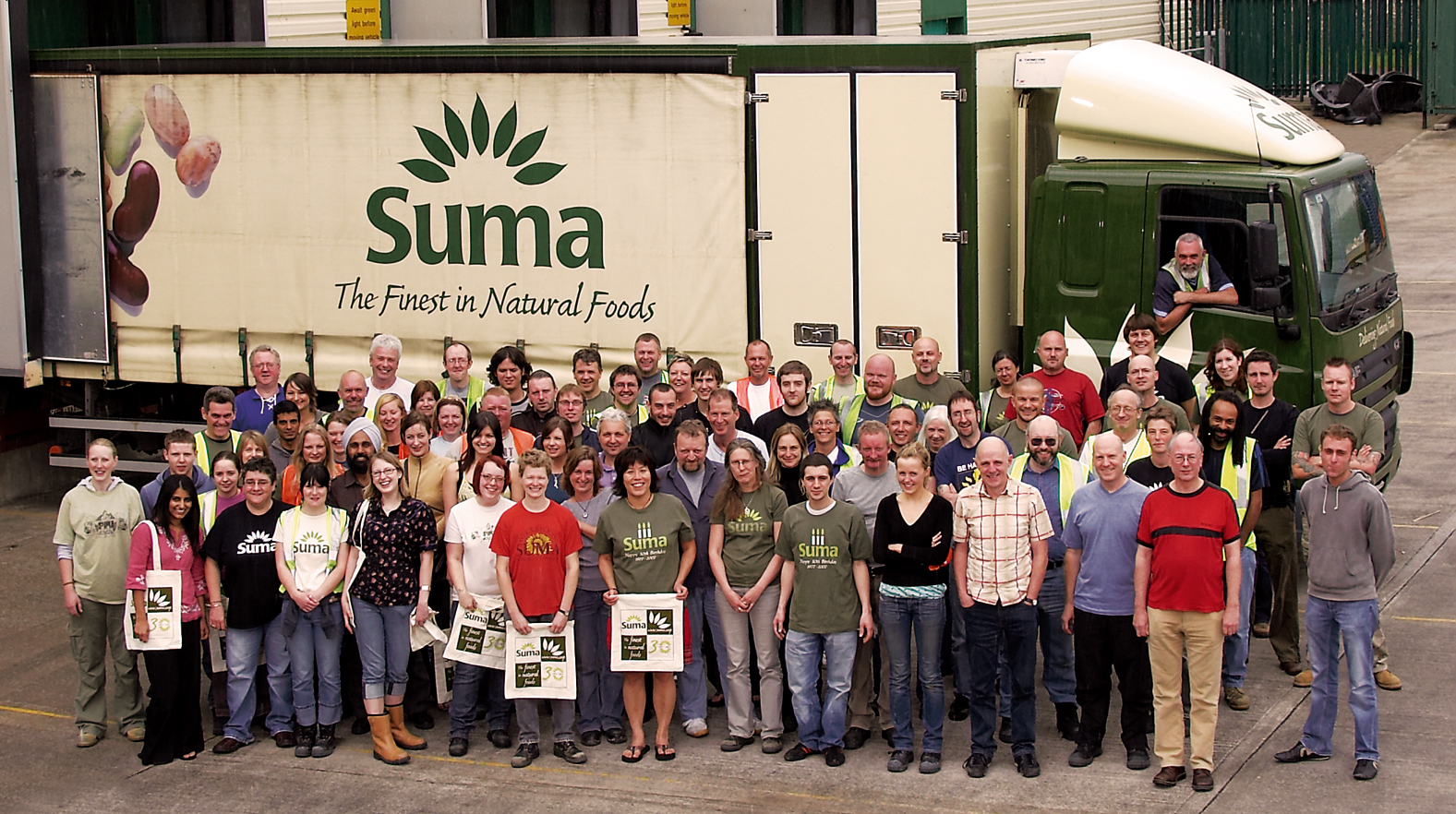 Back to the food; Suma stock a huge range of grains, staples, canned vegetables, nuts, fruits, drinks, oils, dairy goods, toiletries and cleaning products. If you have a special diet eg. low meat, dairy free, gluten free, vegan, they have a ton of specialist foods and meat replacement foods. Quality is very high and prices are comparable with budget supermarkets, i.e. it may not necessarily beat Aldi/Lidl/Asda/Morrisons but it's great quality and great ethics for that same price. It's excellent value.
There are a few other co-operatives doing something similar: Lembas in Sheffield and Rainbow Wholefoods in Norwich are notable examples and similarly have an ethos of equality and co-operative running. They'll also sell in bulk to food buying groups. I believe there are a few more but I don't know them by name, feel free to comment and flag some others up.
What is a Food Buying Group?
A food buying group is where a bunch of individuals get together and place group orders for food, so that they can access it cheaply. Some food buying groups can be purely cost motivated, but around the UK there's a really big trend of these groups also being about getting more environmental, more ethical products, particularly if you live somewhere where those items are not in the shops around you. The group normally has a focal point that makes it a natural little community; a certain cafe, or school, or allotment site. The group can be a co-op, with a constitution, members, bank account – or equally it can be a Whatsapp group and one person willing to have a pallet delivered to their house now and then.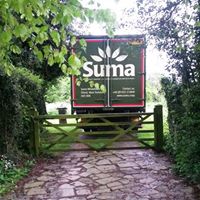 When I was little we used to get our Rainbow Wholefoods supplies (inc. soya milk and un-sulphured apricots) from the delightful Fruits Of The Earth in Upper Orwell Street, Ipswich. It was my favourite shop because its smell was just incredible, all of the cooking spices oozing together, and to a child it seemed stunningly exotic. I have a treasured memory of watching the Chinese New Year parade passing whilst we stood on the high doorstep of the shop. Unfortunately for us this rarity in Ipswich disappeared, leaving us without a particularly good source of wholefood products for a while. A few years later my parents joined the allotment's food group – this is a really popular type of food co-op – and used to order in all the bulk items that a big family gets through; pasta, laundry liquid, loo roll, tinned tomatoes.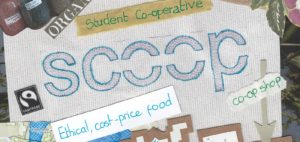 When we lived primarily in York, we were part of the University of York People and Planet Student food co-op (SCOOP, @YorkSCOOP). They have a sophisticated setup where they run a price-by-weight shop called SCOOP at cost out of the University. Most food groups don't have enough admin people to do this, but the students provided a big enough group that it made sense to "pony up" for the bulk and let people come and grab what they want. If you wanted something rare you might have to commit to taking a whole case of it before they'd order it in, but most stuff was very easy to get from there.
Now we're in London and surprisingly we've not naturally drifted into any food groups here. It seems to be a bizarre desert for food groups. For a while that puzzled me, but I've noticed a few factors in the dearth of food groups here: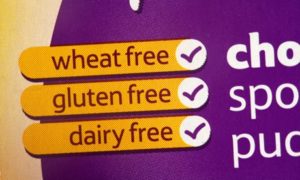 Specialist diets have become normal – It used to be difficult to get dairy free/gluten free/meat replacement/vegan fare in most UK shops, and seeking out somewhere that would sell these to you would be the thing that originally nudged you into the wholefoods universe. Now Quorn is everywhere, and with 1/3rd of British customers now buying Free From products, even my convenience shop stocks soya milk and gluten free bread. It's far easier to get this stuff.
Combo of availability and money – London already has a lot of shops catering to eco food and cleaning products, they charge a lot but they are convenient and people here get constantly psychologically battered into thinking food costs a lot of money, so they don't seem to notice the markup.
Don't talk to other Londoners – our rep across the UK for ignoring each other in London is not entirely undeserved. Our community is simply too large to emotionally cope with, so I've noticed socialising becomes more focused; there's a club for literally any activity, but x club only does x activity specifically. Food groups seem to arise more naturally where the community is smaller so a successful club/society needs to accommodate a more disparate group of people attending and be a focal point for a broader range of activities. People then chat more about neighbouring interests and work out they'd like a food group.
What do you need to start a food group?
£0 – no startup costs
A group of people who can all communicate easily
Enough interest to generate orders of minimum value £250 (total, not each)
Someone who can drive a spreadsheet and knows super-basic accounting (i.e. if you do your own bills, you are totally qualified enough for this)
Someone who feels confident reminding people politely to pay (can be consolidated into the same human as above skillset)
A bank account to marshal the money up in
Somewhere that a huge Arctic lorry (think double-decker bus size) can drop a pallet off
Read through Suma's "Start your own Food Group" guide to find out more. I used their web resources for lots of advice and help and found they were excellent. They had a "Top 100" list, which helped me show the possibilities to people unsure about jumping in.
Our food co-op: Musette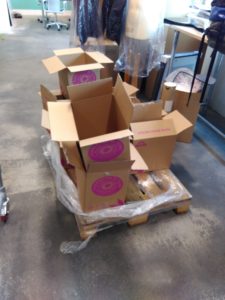 Musette is the food co-op I set up for the employees of Brompton Bicycle Ltd. I'm really proud of being able to set up a co-op of our own, and I'm thoroughly impressed with how enlightened an employer Brompton has been through the process. I'm also just blown away by how stunningly friendly Suma are as a company, and as individuals, which I'll say more about in a second.
I'll do another post sometime describing the nuts and bolts of how we run, and how orders come together, but for now I want to just chat a bit about how Musette came to be.
The food group grew out of necessity; LittleEcoFlat gets through lots of TVP, soya milk, Boullion powder, Ecover washing and cleaning things, tinned chickpeas, and we were getting this all from SCOOP. As we spent more and more time in London we were having to take more and more of these foods down on the train from York. It's a ridiculous situation that this was still so much cheaper than buying those things here. So we had a think about who would make a good group; we thought maybe the allotment, but we were concerned on two counts. First was we are newbies. Rocking up and then starting to organise people who've been doing this a lot longer than you is rarely wanted or needed. Second is the allotment group is quite loosely connected and its organisation appears mysterious from the outside. Our secretary clearly has an excellent handle on things, but we really lacked the confidence that we could get this gang pulling together, communicating well, and placing big enough orders.
Instead I started to think about my workplace. The factory is massive; pallets and lorries coming and going is the day-to-day reality. My immediate colleagues include several who love to cook and like good quality ingredients, and the wider company is big and could get a minimum order together even if it's only a small % buying one or two items each. My colleagues include people who eat low meat, no meat, organic, palm oil free, and who use environmentally friendly laundry liquid etc., making them a decent fit for Suma's catalogue. Brompton isn't a campaigning organisation and doesn't have an environmental agenda, but the staff is heavily made up of cyclists and that has a correlation with many of us feeling quite environmentally conscious.
My first step was to gently float the idea hypothetically to a couple of close friends at work. They seemed keen and thought others would be too. After building up my confidence a bit, I went to our MD and pitched for permission. My argument was that his employees get access to a seriously good deal on good quality food, and all it's going to cost him is a pallet spot for 1-2 days which isn't even going to be a hassle. He didn't know much about Suma or food buying groups but was immediately keen. He gave me permission and said this is the kind of employee community activity they want to have, he was really encouraging. I'm glad I spoke to Brompton's management really early; if you are considering doing something similar, I would recommend doing it this way. I felt it was important to show my respect for the company before steaming ahead, and it definitely set the right tone of enthusiasm. I also appreciated that the MD showed his support by making sure he joined in on the first order, and spreading the word about Suma.
The first order was a solo affair on the admin side; I phoned Suma and set up an account alone, and did the promoting, order collection, money admin. When I first spoke to Suma the size of the task felt really daunting. But I needn't have worried – I had the pleasure of Lynne (from the New Business Team) taking me through the process with warmth and charm. She signposted me to all the info I needed and it genuinely was really easy to get started. Something I hadn't anticipated was Suma were so excited by Brompton getting in touch. Lynne was really impressed that our staff were up for this sort of thing, and Suma staff have a great love for cycling. Regardless of that, everyone I've had contact with at Suma has made it clear that they're so happy to have us, and that they genuinely love new customers coming along and getting to include them in something everyone at Suma deeply believes in.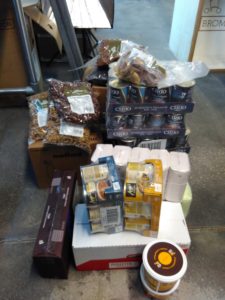 My first order was a bit gunky, I made mistakes, I didn't know which foodstuffs were VAT chargable (it's seriously weird). I didn't check if things were in stock, and on the first order you don't have a credit line yet which means you need to pay for everything and then process a refund for anything which isn't able to be sent for whatever reason. But Brompton staff were excited and positive, whilst Suma staff were quietly efficient and dealt with everything very smoothly. The order was a big success overall, people loved it and made it immediately clear that they wanted to do it again. Meanwhile, the lady who packed our pallet for us slipped in a handwritten note which we proudly put up on the noticeboard:
Big love to Brompton Bicycles! Best in the world! Jane, Suma xxx
Thank you Jane!
After that there was a long hiatus due to me getting married, which rather maxed out my admin capabilities. But when I got back, we set about creating Musette. It's a constituted co-op with four Brompton employees making up the management committee. I'm chair and realistically I still do most of the order side, but it's lovely having the others to seek advice from, to help publicise the group, and to help me split out the goods when they arrive. I wanted to set up a full-blown co-op, rather than an informal group, partly so that the admin wouldn't all fall on one person, but mostly so that I'm not handling loads of my colleagues' money all on my own. The orders can easily break £1k each, and whilst my colleagues clearly have trust in me and have been happy with my management of the money, having a co-op means it's more accountable and transparent if any confusion ever did arise. Best to keep a healthy boundary between work world and money world.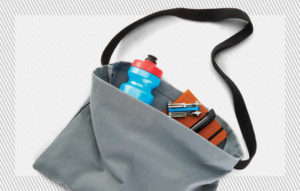 The name refers to a musette bag from the world of road cycling, which is a light cotton bag with a very long strap so it'll sit on the rider's back easily, filled with snacks that gets chucked to pro riders in the feed zone, or generally taken on rides to snack from (See also: nosebag, bonk-bag). It took us a long time to come up with it, we were initially trying for a bad pun or slightly naughty acronym, but being a co-op based on the intersection of bicycles and food, Musette is such an appropriate name.
Together with the committee it's going really well. The hardest thing about it is that it involves payments and so people forget, or don't really want to pay, and you have to keep firm about the boundaries there. We've set a simple rule of payment before order, and the order's on a hard deadline. If anyone misses payment, their stuff doesn't get ordered, but we're really gentle about it and encourage them to try again next order.
Overall this experience has been excellent. LittleEcoFlat has enough food tucked away in it to weather the apocalypse, and I've gotten to see the enthusiasm from both Brompton and Suma employees. It reinforced my feeling that I'm really lucky to work at a place where people are interested in having a community, and are interested in having integrity and principle in how they live. I had no idea how a community that isn't primarily eco-focused would take to Suma; but it turns out my colleagues are open-minded and interested in the world, and they bloomin' love cut-price pine nuts.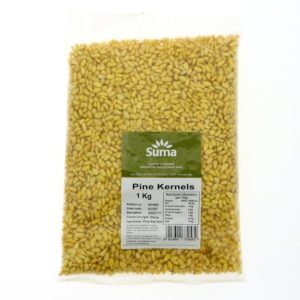 Links