Pining for a warm floor; Installing parquet in 70s flat
So this is the first blog on "LittleEcoFlat" our 2nd renovation project we're trying to make as "Eco" as possible. The background is that my partner got a job in the "Big smoke", which allowed her to bring together her professional life (mechanical design engineering) and love of sustainability to work in bike design in London. Following 1 year of renting a sofa to crash on (from a rather lovely lady), we sought something a little more permanent. Searching for a flat was fun but as I was working in the US for my PhD the time, it was a pretty challenging time. Regardless we managed to find a little place needing some love and slowly started turning it into a home by the only way we know how, flooring 1st! (Although this might be a floored approach… )
The Carpet
The walls and carpets all had a brown tinge only really describable as "nicotine coloured"  (My partner actually came in in rashes from touching the carpet!). The carpets had to go. It would be great to have found a way to re-use them, but unfortunate the only option (I'm very interested in anyone has found alternate options) was to take them to to tip. As they rested directly on concrete they weren't warm either and we were determined to have a warm floor so we started looking at alternatives and how to add some warmth. Interestingly, in a lot of houses there are often pretty floorboards unearth the carpets. If the house has been insulated to stay warm they can be rather pleasant underfoot, and just need sanding back (as is the case in "LittleEcoTerrace"). As this wasn't the case in "LittleEcoFlat" we had to look for alternatives…
The Floor
To prepare the flat to get a new floor we got right in by pulling up the old carpet. After the carpet the vinyl tiles underneath had to come up, as many were broken/missing, to give a flat starting surface. This required a lot more effort than we expected, but did allow for a time playing with some of the more destructive DIY kit… We both have a favourite crow bar now.
Local trades
We were never going to do lay the parquet ourselves. We had already learned (from mistakes) that there are certain tasks best left to professionals and have nothing against support local trades. So after finding somewhere local to buy reclaimed floor boards (and settling on Pitch Pine) and someone who do the skilful part, work got started användbar länk!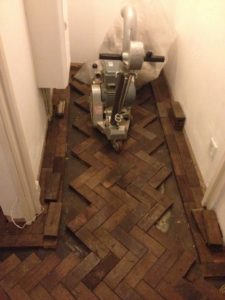 Seeing Joseph lay the parquet was impressive, like a huge game of herringbone Tetris. Then the oily and burnt reclamed boards were sanded. Once the sanding started the transformation was incredible…
The final floor was then given a protective coat which brought the red of the Pitch Pine out, and hopefully will give it a more hard wearing surface.
This project had opened our eyes to huge options available from reclamation yards and second hand shops, and the sheer number of these. There has been a lot of coverage of re-use and upcycling recent on the TV (e.g. Kevin McCloud's Man made shed where he made a hottub out of a old aircraft turbine) and i'm always interested new uses of materials that for no good reason now classed as waste (e.g. this old radiator turned into a seat by the BareFootWelder… we have 3 of these and are seriously considering it)
We acknowledge that "off-the-shelf" engineered boards would have essentially done the job too. However I find the idea very appealing that for decades and decades to come the floor could just be re-sanded to restore it, then there is the "eco" side of re-use of wood.  They were many sustainable options ( e.g. FSC Cork, Bamboo, upcycled cutlet glass etc ), but for indoor air-quality reasons the choice for us could not be "standard" carpet that is ubiquitous everywhere.
After sorting the floor we have been on the search for second hand furniture and found where is good in west London, which I'll blog about another time. It did take a lot more effort to prepare the floor than we anticipated (which you could say, wasn't a walk in the parquet),  but we are very happy the end result and how warm the floor feels underfoot.
Links
Joesph Dohf – The guy who did all the hard work on laying the parquet and deserves the vast majority of the credit
Heritage reclamation – Where we bought the parquet from