Don't feel Marrow-se about your courgettes!
When does a courgette (or zucchini to our American friends) become a marrow….  
When you go on holiday!
In our little journeys into growing your own, there've been lots of surprises. Certainly the biggest (by weight) surprise has been the mad expansion of our courgettes whilst we were on holiday!
The 1st Haul
We returned to harvest seven handsome marrows and promptly realised we had no idea what to do with them.
Look at these beauties, the 1st seven weighed a total of 10.5kg!
Here's what we've been doing to beat the glut without getting bored; if you have recipes to add we'd love to hear them.
Roast 'em
Our first point of call was roast marrow. We had two tries at this, both turned out well but definitely the second was best.
Falafel-stuffed Marrow
Ingredients
Recipe
Preheat the oven to 180 degrees Celsius (fan)
Mix the falafel powder with 150ml of water (slightly less than normal)
Cut the marrow in half lengthways and scoop out the seeds and pulp
Brush the oil thinly over the marrow inside and outside
Roast the marrow for 20 minutes on a pizza stone
Remove and fill with falafel mixture
Roast for 30 minutes
Serve
We found that the falafel went crispy on top and steamed underneath, which is what we were after. However we concluded the marrow was not too interesting on its own and could really carry more flavour.
Chorizo, tomato & paprika roasted marrow
Ingredients
1 huge marrow
4 cloves of garlic
3 tbsp of olive oil
2 tbsp of ground paprika
1/2 ring of chorizo
2 x 400g tins chopped tomatoes
3 tbsp tomato puree
1 tsp Bouillon powder
1 tsp soy sauce
Recipe
Admire your marrow
Preheat the oven to 180 degrees Celsius fan
Cut the marrow in half lengthways and scoop out the seeds and pulp
Peel, crush and finely chop the garlic cloves
Brush a little bit of oil thinly over the marrow skin
Mix the rest of the oil, the garlic, and the paprika in a small bowl
Score the inside of the marrow deeply in a diamond pattern
Drizzle the oil mixture on and spread it out all over the insides with the back of a spoon
Roast the marrow for 20 mins on a pizza stone
Whilst that's cooking, chop the chorizo into bitesize chunks and fry for 5 mins in a large thick-bottomed pan.
Tip in the tomatoes, puree, Boullion and soy sauce. Simmer & reduce until the marrow is done
Put the tomato & chorizo mix into the marrow
Roast for 30 mins
Serve
Definitely go overboard on the paprika – the resulting oil paste soaks down the scored sections and gives the marrow colour and flavour. We loved this and it stored really well for lunches.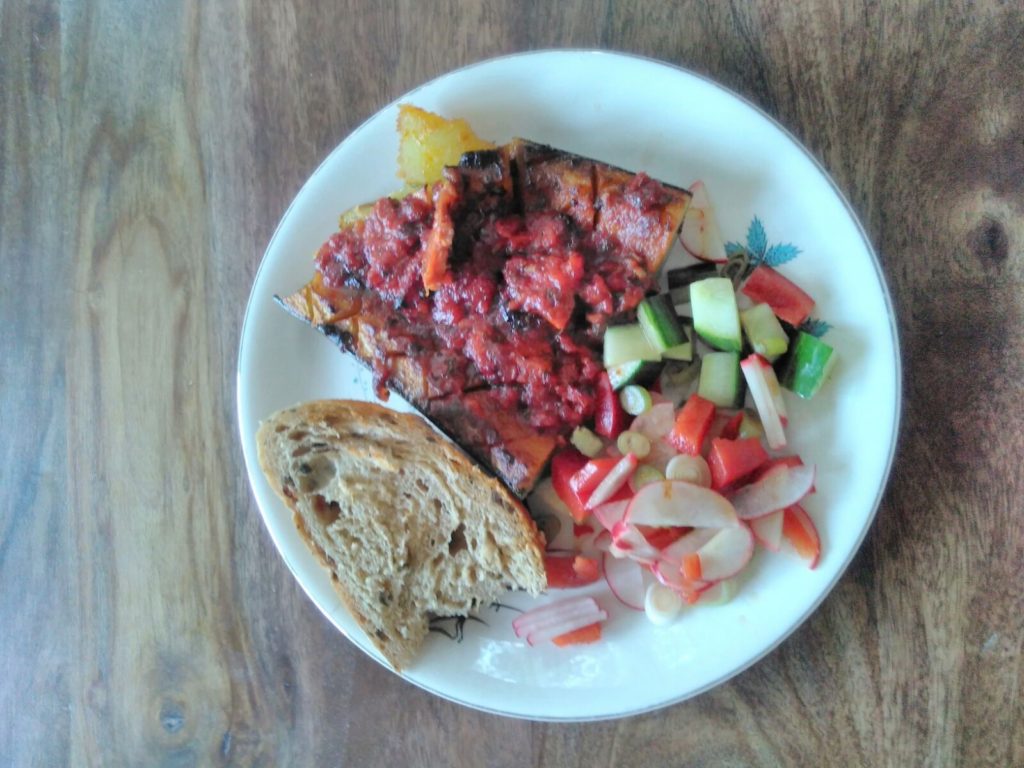 Give Them Away
Next we dealt with another two by giving them to friends who eat healthily, but don't have a growing patch of their own. One of them tried roasting their marrow with nut roast stuffing which they highly recommend. The other is still considering their options…
Bolognese
We also made our normal bolognese recipe (lots of veg, soya protein instead of mince) and put most of a marrow chopped up in that as a nice bulker. It'd also disappear into soups in a similar way.
Marrow & Stem Ginger Cake
I enlisted my work colleagues to eat and rate V1 for me and came up with V2 today. Based on the feedback, this is my optimised recipe. It comes out sticky and with a powerful gingery kick, I recommend it as a loaf cake but it also works as an iced circular cake.
As we all know, cake is a serious business and benefits from the application of SCIENCE (or at least, graphs) and so here is my peer-reviewed cake: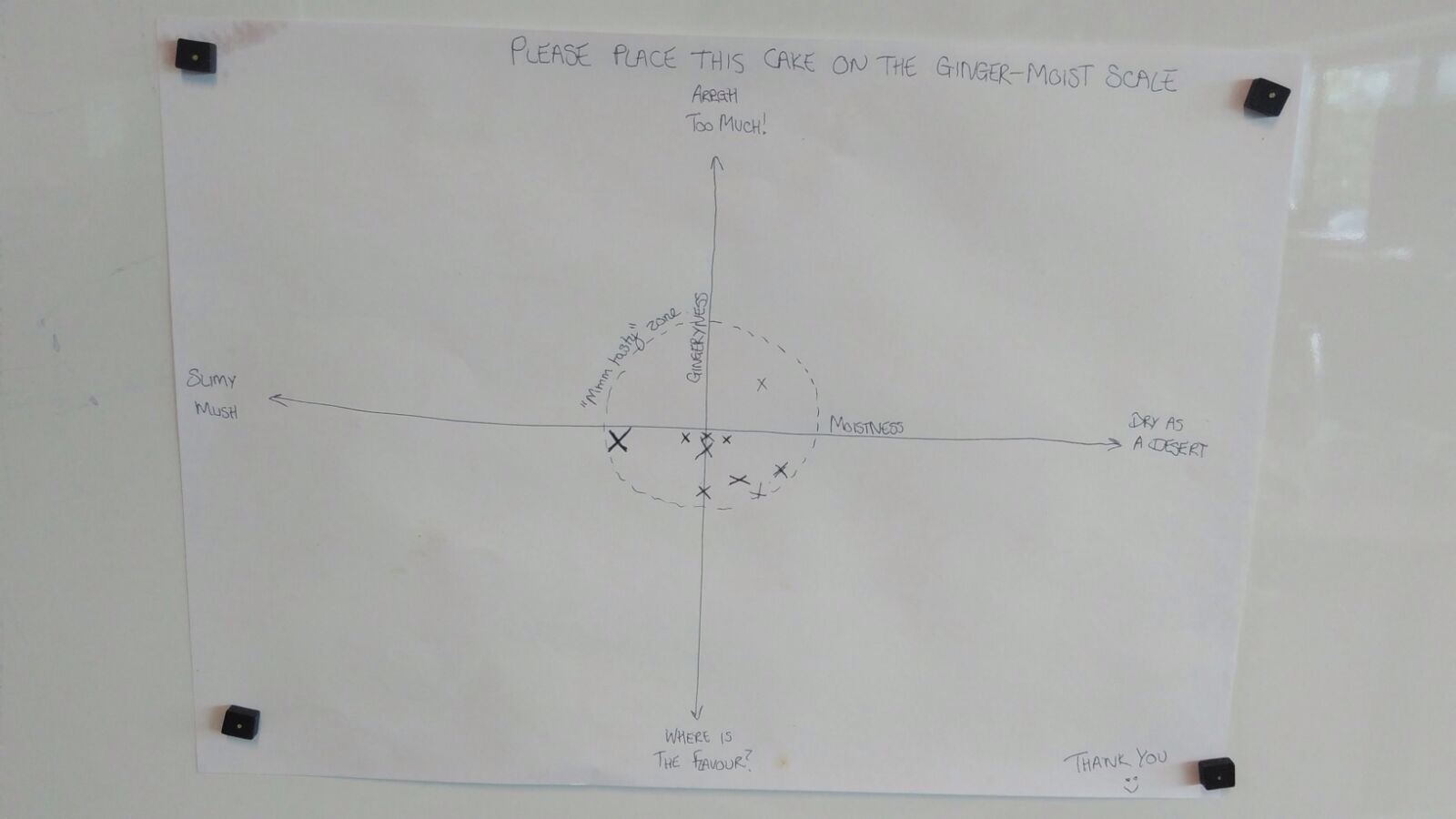 Based on this I put more ginger and more marrow into version 2!
Ingredients
300g marrow, skinned cored and grated
200g self raising flour
200g butter
100g brown sugar
227g (1/2 jar) Lyle's golden syrup
175g (1/2 jar) stem ginger & ginger syrup (tried 4 places for this and eventually found it in Morrisons)
1 egg
2 tsp ground ginger
1/2 tsp ground cinnamon
1/2 tsp mixed spice
1 tsp baking powder
1 thumbnail-sized chunk of ginger root, fine grated
Recipe
Preheat the oven to 160 degrees Celsius fan
Line your tin, I use a silicone one so I just put a thin coat of butter on it and toss a teaspoon of flour in it
Beat the butter and sugar together. Brown sugar is a right pain if it's got lumps in so it's really worth crushing those out first.
Whisk the egg and beat it into the mix in little bits. The butter I use is Pure Soya Marg and it has a tendency to curdle when mixed with egg, so to avoid this I sieve in just a bit of the flour first.
Pour in the syrup and mix
Chop the stem ginger into chunks about 4-5 mm wide. Make sure to keep at least one or two pieces back and cut them into bigger bits, about a cm wide, so that there's concentrated bits of ginger to bite into. This was a key innovation introduced after version 1!
Stir the stem ginger pieces and grated root ginger into the mix.
In a dry bowl stir the flour, baking powder and spices together. Sieve into the mix and fold in gently
Tip in the grated marrow, and stir in as gently as you can (don't want to lose too much air)
Fill the tin and bake for 40-50 mins or until a skewer (or knife, if like me you don't have any skewers) comes out clean with no cake mix on it
Place on a cooling tray for about 5 mins but if you're using silicone don't let it cool all the way in there; turn it out fairly promptly
Cover with a tea towel and allow to cool
OPTIONAL – ice with buttercream. 1 qty butter to 1.5 qty icing sugar
Enjoy the sweet victory of your work colleagues insisting you feed them more of your glut item
Our Other Ideas
Our Mums have been sending us lovely recipes and we've also had some recommendations off friends. We want to try courgette fritters, spiralised courgette noodles, ratatouille, and much more besides. But that is a matter for to-marrow…
The Situation Is Now Under Control
Its been a bit of a marrow-thon, but of our mighty glut only one marrow remains – handily when they get big their skins get thick, so it's safe to store it for a couple of weeks. In the meantime our courgette patch has been giving us civilised normal sized courgettes which are sweeter and firmer. These are now slotting into our normal cooking habits (steamed with a meal, fried/roasted in slices, grated in salad, chopped in risotto) and saving on our grocery bill!
Links